Excerpt of message from Moldova Baptist Union, April 15, 2022
(photos directly below are from this report)
In Moldova we try to meet the urgent needs of the Ukrainian refugees who have been crossing the border of Moldova to escape the war in their homeland and who are enjoying shelter in our country during this very difficult period in the neighboring country. We provide them with three meals a day, spiritual counseling, medical care, children's activities and we preach the Gospel to those who do not know Jesus Christ as their personal Savior and Lord yet.
Every refugee has their own sad story or even drama. Women have left their husbands in Ukraine, children – their fathers. The number of orphans has increased. Refugees coming to our shelters are frightened, tired, confused, shocked, terrified. Here they receive assistance, can rest physically (a lady after a very long drive from Ukraine could not walk at all while getting out of the car), they can eat, drink, calm down, receive hope, etc. Some people need to stay in Baltata for one or two nights and continue their way to other countries, others prefer to stay for weeks, maybe months hoping to be able to return to their homes.
Many of them write us short Thank You messages already from Germany, Romania, Poland, the Netherlands, etc. and express their gratitude for the help and direction received in Moldova.
We have established an average cost of $25 per day for each refugee which includes:
— Breakfast – $4
— Lunch – $7
— Dinner – $6
— Utilities: heating, electricity, hot water, sewage – $7
— Toilet paper, soap, detergents, washing sheets – $1
We host and serve about 300 refugees per day.
We need about $7,500 per day. Most of the support is coming from abroad. As Moldovan people have been very open to help, we discovered that Christians all over the world have been ready to help as well. We have received support from the European Baptist Federation, Children's Emergency Relief International (CERI) and other organizations. Local churches can help us by sending volunteers, but the ministry is not easy and many of them get tired. We do not receive any support from the Moldovan government yet.
Prayer needs:
— We pray for peace in Ukraine and in the region;
— For more volunteers;
— For the refugees: the women without husbands, the children without fathers, for orphans, for those who lost their houses.
— For our pastors that God would grant them wisdom, vision, positive and nice response.
We need prayer and financial support in order for us to be able to continue helping refugees during this difficult time in Ukraine. Thank you so very much for your help and may God bless, protect, strengthen and reward you abundantly!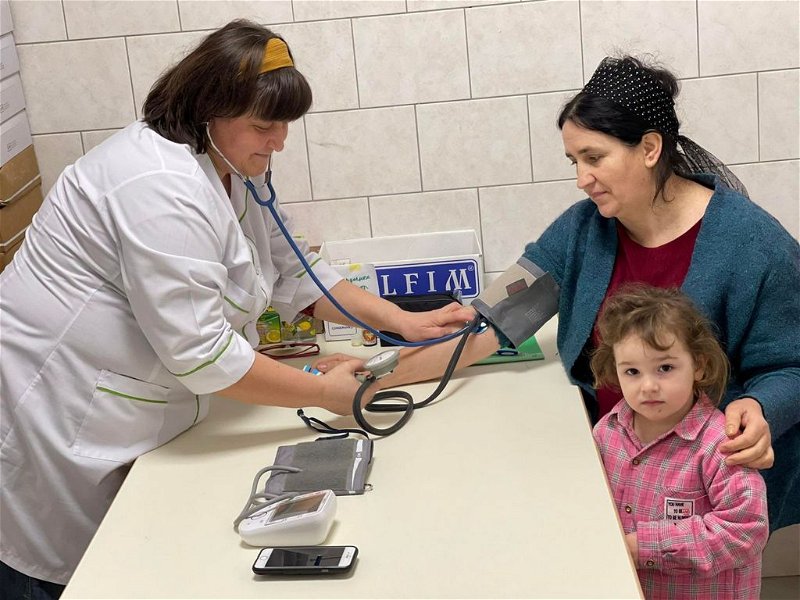 Report from Marriage & Family/Outreach Director, April 16, 2022
(photos directly below are from this report)
We buy tea, coffee, water, groceries, diapers, wipes. After the refugees cross customs, they are brought to a distribution point. From there, volunteers direct them to buses that take them in different directions. Some go to Romania, and from there to Europe. Some stay in Moldova for several days and weeks and decide what to do next. Some remain in Moldova and wait for the end of the war to return home. We fed them hot meals. They were treated to tea, sweets, fruits. On the way we offer water and hotels.